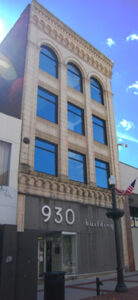 Applied Separations was started in 1987 with the mission to provide sample preparation products to today's analytical laboratory and has become a pioneer and worldwide leader in the use of DNA-free products and Supercritical Fluids in traditional and non-traditional marketplaces.
We are leading the charge in making Supercritical Fluids a growing part of the conversation on green chemistry. What used to be a technology intended for extractions of things like caffeine from coffee can now be applied in dozens of areas, including aerogels, metal injection molding, medical implant cleaning, and artifact restoration.
Applied Separations was one of the early participants in Pennsylvania's Ben Franklin Technology Partnership, located on the Lehigh University campus, an incubator program for high technology start-up companies. The company secured research grants to develop manufacturing methods to produce consistently high-quality Solid Phase Extraction (SPE) chromatography sorbents. The line of consumable SPE cartridges was marketed under the trade name Spe-ed - solid phase extraction and elution device.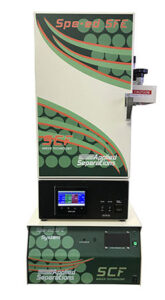 In 1992, Applied Separations entered into a Cooperative Research and Development Agreement (CRADA) with the U.S. Department of Agriculture to develop a low-cost supercritical fluid extraction instrument that overcomes many of the shortcomings of the instruments currently in the marketplace. The culmination of this effort, two years later, was the Spe-ed SFE. Two of the foremost experts in supercritical fluid extraction, Dr. Jerry King and the late Dr. Robert Maxwell, have lent their names to the Spe-ed SFE project. Market acceptance of the Spe-ed SFE was overwhelming.
New Technology
Applied Separations continues to be on the cutting edge of SCF technology, developing new systems to meet customers' demands. The SCF line now includes the Spe-ed SFE-Basic for teaching SCF in the college laboratory; the Spe-ed SFE-2 and 4 - the original SCF bench-top laboratory systems; the Helix modular SCF system; the 2Tech-L/S Movable/Small Pilot system; Custom designed and Large Scale Production SCF systems. These SCF systems are used for a multitude of applications such as the development of the breast cancer drug "tamoxifen" (taxol), nano-particle research, MIM debinding, archaeological restoration, aerogel drying, medical device cleaning, and natural products, just to name a few.
In the late 1990s, Applied Separations added two product lines. The fast PSE and one PSE were developed to answer a need in the pressurized solvent extraction (PSE) field. The PSE replaces slow traditional extraction methods, saving time, money, and solvents
In addition, Applied Separations has expanded its extensive SPE line to include Flash Chromatography products. Applied Separations now produces QuEChERs.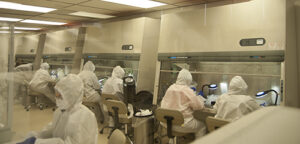 Applied Separations also offers custom filling in DNA-free cleanroom facilities for the contract filling of filters, packings, sorbents (proprietary or generic) in spin baskets, polypropylene cartridges, and 96-well microtiter plates, or any other configuration.
Education
Applied Separations has committed to doing its part to assist colleges, universities, and 2-year institutions in preparing their students for the scientific workplace of today and tomorrow by instituting a grant program. Winners were awarded a Spe-ed SFE Prime/Basic Package, which includes a Supercritical Fluid System and vessel designed specifically for the higher education market as well as supporting Classroom Materials, such as a syllabus, handouts, suggested applications, and more. The total value of this package exceeds $30,000. The grant program is currently under review to expand the reach of our assistance.
In the Community
Privately owned and self-financed, Applied Separations has won numerous honors since its inception, including multiple technical achievement awards, "Good Citizenship" recognition, American with Disabilities Employment Award, AEDC: Economic Development Achievement Award, and the Ben Franklin Innovation Award. In addition, Applied Separations has received multiple competitive government grants and purchased a 5-story headquarters building for its 50 employees in a HUB Zone in Allentown, Pennsylvania.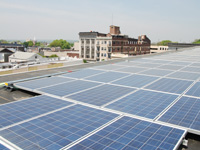 Applied Separations hosted a reception to unveil the newly installed solar panel system. The system is composed of 207 large solar photoelectric panels, each generating 235 Watts of power, with an estimated annual energy production of 53,300 KWh. This is the largest exhibition of commitment to renewable energy in downtown Allentown, and Applied Separations is proud to be leading by example in its dedication to the green economy and sustainability. The system will generate 53 SREC (Solar Renewable Energy Credits) per year, allowing Applied Separations to sell an estimated 10,000 KWh back to the power grid. The transition to solar power is expected to save Applied Separations $33, 332 over the next 5 years in energy costs.
Applied Separations has received national attention in addition to its numerous regional awards. Rolf Schlake, CEO of Applied Separations, had the opportunity to have lunch with President Barack Obama, along with the mayor of Allentown and other local business leaders, where Schlake had the opportunity to expand the President's knowledge by educating him on Supercritical Fluids and the role they can play in the Green Economy. They have also played host to many local and national politicians as well as multiple international scientists. Applied Separations has also received national television coverage, including an appearance on American Environmental Review on Public Broadcasting Service.
Applied Separations has grown tremendously since its modest beginnings, boasting consistent growth and technological advancements which show no sign of stopping.