Pressure Vessel Caps
100mL and 300mL vessel lids are available in one port or two-port configurations.
All one liter and 500mL SCF vessels have interchangeable caps. Choose between a 5-Port vessel lid, a 5-Port vessel lid with a large center port, and a single port vessel lid. This allows for great flexibility and control in processing samples.
The ports allow for the insertion of probes, thermocouples, fiber optics, illumination, and more. You can introduce a stirrer and/or meter in reactants and modifiers. You can "thief" samples. When the ports are not needed, merely insert the threaded plug. The possibilities are endless.
The 500mL and 1L vessels can be purchased with any of the three different lids. The vessel lids are interchangeable. Additional lids can be purchased, and they will fit your 500mL or 1L vessel.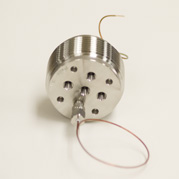 Pressure Vessel Basket
Devices for easily removing contents from a pressure vessel after extraction/reaction.
Applied Separations' Teflon vessel baskets aid in the efficiency of your extraction workflow. Now you can load your samples into the basket and easily insert and remove it from the vessel. You no longer need to remove the sample from the vessel itself.
The baskets are made to fit 300mL, 500mL, and 1L size vessels, with interchangeable stainless steel frits. Frits pore size ranges from 5µ to 200µ
Since all baskets fit snugly in their vessel, there is no bypass. All the CO2 goes through the basket.
Baskets for specific applications or your special requirements (for example MIM parts) are also available, please inquire.)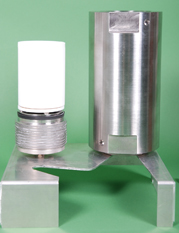 Stirrers for High-Pressure Vessels
Applied Separations now offers new stirrers to go into their extraction/reaction vessels via the 5-Port cap that allows access to the inside of the vessel during your process.
The stirrers are rated to 10,000 PSI, 650°F, and go up to 3,000 rpm. The instrument control panel includes a digital display to monitor rpm. Stirrers are available with different shaft lengths, with a wide variety of impellers available to attach to the bottom of the stirrer.