The ONLY Teaching Tool for Supercritical Fluids Technology
Applied Separations is meeting the growing, world-wide commitment to a cleaner, greener environment. Environmentally friendly Supercritical Fluid (SCF) technology works with today's innovative, easy-to-use systems from Applied Separations.
Your students will be leading tomorrow's green process using no petroleum solvents and no toxic residue.
The Spe-edTM SFE Basic* systems meet the rigorous needs of day-to-day use in the classroom and are made for hands-on demonstrations. It is safe, simple to operate, fast and affordable, with features found in other, more expensive SFE systems.
Demonstrate Supercritical Fluids in emerging industries, foods, natural products, and nanotechnology where solvents can't be used.
*The Spe-ed SFE Basic replaces the Spe-ed SFE Prime system. Same robust system with some new features!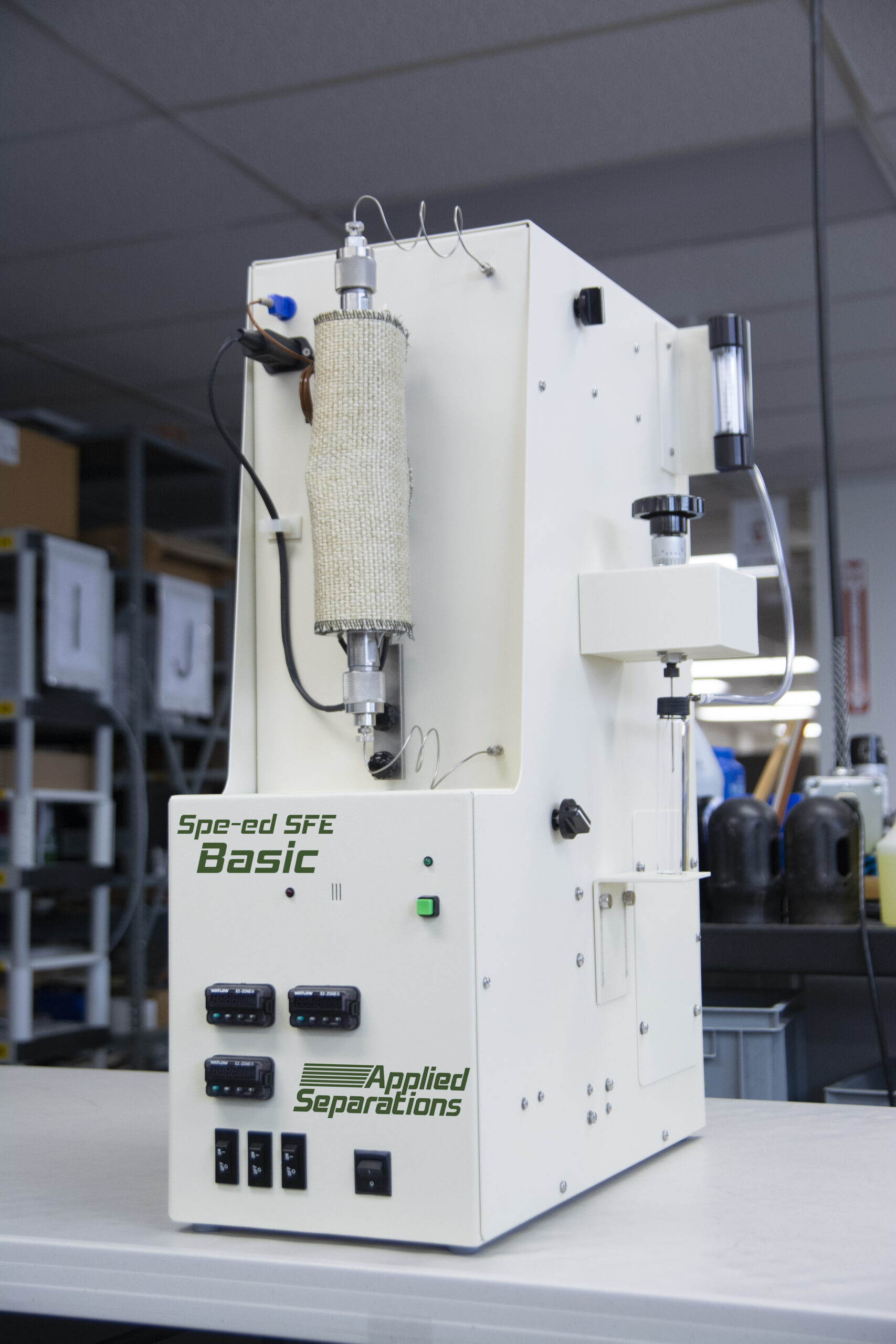 Uses of SCF range from:
Extracting herbs, spices, and fragrances

Extraction of pharmaceuticals / nutraceuticals

Extracting nicotine and caffeine

Extraction from foods

Dyeing textiles

Cleaning medical implants

Making nanoparticles

Drying aerogels

Cleaning wafers

Developing photoresists

Extraction from polymers

Impregnation of biopolymers
In addition to Green Chemistry, the world of the very small, nanotechnology, is VERY big. Students without a strong knowledge of nanotechnology will be at a serious disadvantage when they enter the workforce.
Supercritical Fluids will also play a critical role in Nanotechnology with no surface tension and no residue. Conveniently enough, we have an instrument that can be used to teach BOTH Green Chemistry AND Nanotechnology.
Affordable, safe, durable
Package includes syllabus, applications notes, and experiments, technical support
Developed in conjunction with South Dakota State University's Doug Rainie, a preeminent professor well-versed in SCF
Supercritical Fluids are no longer an exotic laboratory curiosity, but now a cost-effective tool to improve process development that your students MUST know to be prepared for the real world!
Medicinals
Biomass extractions
Enzymatic reactions
Reaction cleanups
Hydrogenations
Material Science
Coatings
Impregnations
Electronics
IC Cleaning
Micro-Electro-Mechanical Machines (MEM) cleaning
Resist developer
Impregnations
Cleaning
Critical cleaning machine parts
ICs
MEMs