Whatever your SCF extraction/reaction needs, we have the extraction/reaction pressure vessel for the job. With the unique large oven capacity of the Spe-ed SFE systems, we have pressure vessels for multiple processing or large sample processing needs. Our pressure vessels range from 5mL to 1 liter for laboratory SCF systems and to 1000s of liters in production size systems. All our stainless steel pressure vessels are rated for 10,000 psi. Endcaps and frits are included with vessels.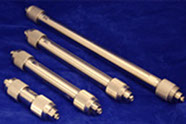 Also available are an assortment of laboratory SCF pressure vessel accessories:
oven brackets and supports
in-line cartridges
vessel wrenches
polypropylene frits
teflon frits
metal frits
filling funnels
seals
tamping rods
liquid sample extraction kit
available for Low Temperatures (to 150 degrees C) or
available for High Temperatures (to 240 degrees C)
Vessel Heating
Control in heating vessels is vital in dealing with supercritical fluid work. To this end, we have developed a robust, accurate heating mechanism: a vessel assembly or "clamshell" heater.
No more heating bands that break after using vessels in routine operations. The easy to buckle on "clamshells" shown here are used on all Applied Separations' laboratory pressure vessels when used with: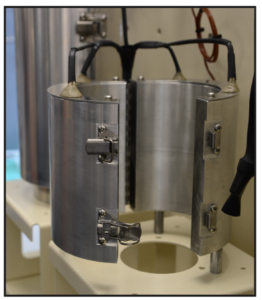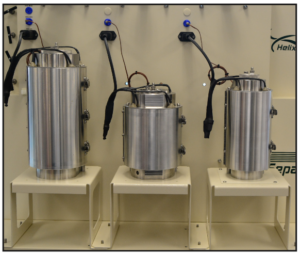 Nominal Volume
Dimensions
Endcap Ports top/bottom
ASI Part Number
5mL
1" O.D. x 5.125" O.L.
.390" I.D. x 2.24" I.L.
1/1
6411 / 79720
10mL
1" O.D. x 5.125" O.L.
.560" I.D. x 2.24" I.L.
1/1
6412 / 79720
24mL
1" O.D. x 8.875" O.L.
.560" I.D. x 5.9" I.L.
1/1
6414 / 79730
50mL
1" O.D. x 15.25" O.L.
.560" I.D. x 12.72" I.L.
1/1
6414 / 79750
100mL
2.25" O.D. x 9.75" O.L.
1.25" I.D. x 4.97" I.L.
1/2
6415 / 79770
300mL
3.5" O.D. x 11.42" O.L.
2" I.D. x 5.87" I.L.
1/2
7907 / 79070
500mL
4.75" O.D. x 9.49" O.L.
3" I.D. x 4.49" I.L.
5/5
7926 / 79260
1000mL
4.75" O.D. x 13.63" O.L.
3" I.D. x 8.62" I.L.
5/5
7908 / 79080