We are your
R&D department
Process development group
Technical services staff
With years of experience, Applied Separations, Inc. provides many disparate industries with supercritical fluid systems, putting it in a unique position to give insight into how supercritical fluid technology will provide you with benefits. Whether it is developing a process for extracting natural products from unique matrices, dealing with medical implants in cleanroom environments, or understanding the properties of space-age nano-materials, Applied Separations, Inc. has been involved.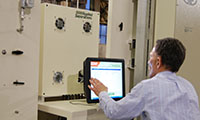 We will work closely with you on a per diem basis or on a long-term project basis. You can even work side by side with us in our facility, if necessary. We'll run your samples and give you an expert evaluation.
If it's supercritical to you, it's certainly supercritical to us.