Applied Separations not only offers SCF instruments, but we also offer a full line of accessories to customize your SCF instruments to fulfill the research goals in your laboratory.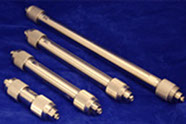 Pressure Vessels
Whatever your SFE extraction needs, we have the pressure vessel for the job. Visit the Pressure vessel page for more information.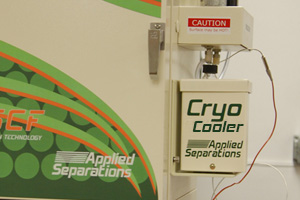 CryoCooler
Several sizes of low pressure/ambient aluminum containers are available to collect a variety of extracts. Should the extract be highly viscous heat can be applied, or if volatile, chilling can be applied.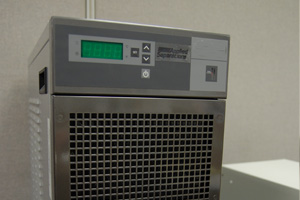 Recirculating Bath
The Spe-ed RCB for Spe-ed SFE systems is a specifically designed recirculating cooling bath that chills the CO2 to liquidity. It is microprocessor controlled, with a small footprint and nearly noise-free.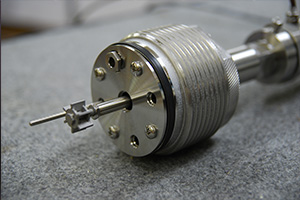 Stirrer
Applied Separations now offers new stirrers to go into their extraction/reaction vessels via the 5-Port cap that allows access to the inside of the vessel during your process.
The stirrers are rated to 10,000 PSI, 650°F, and go up to 3,000 rpm. The instrument control panel includes a digital display to monitor rpm. Stirrers are available with different shaft lengths, with a wide variety of impellers available to attach to the bottom of the stirrer.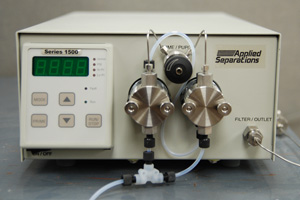 Modifier/Liquid Pump
Liquid pumps may be necessary for several operations when using the Helix: adding polar modifiers, introducing solvents during PCA, and for the operation of the countercurrent column.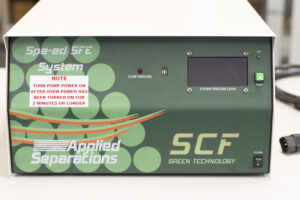 Pump Module
There are two standard CO2 pumps. These are air-driven, liquid pumps capable of delivering CO2 from a cylinder (nominally 60 BAR at room temperature) to a pressure of 690 BAR. Because they are pneumatic, they are inherently more compact, safer, cleaner, quieter and require less maintenance than either electric or hydraulic pumps. In both pumps, the pressure is set and shown by a digital readout. There is another gauge to show air pressure.


Emergency Pressure Relief Device
In its on-going efforts to make its supercritical fluid and other high-pressure systems even safer, Applied Separations Inc. has developed a patented device to relieve the pressure in a pressure vessel when the normal inlets and outlets have been clogged after extraction/reaction conditions.