The Helix™ Laboratory Supercritical Process Development Unit is a modular system designed for maximum flexibility and scalability. Depending on your needs, this unit can be configured to handle a multitude of tasks, using only the modules you require for your specific process.
The Helix allows for changing process development needs and budgets. All modules can be purchased initially or new modules can be seamlessly added to the unit as development needs change or budgets allow.
Scalability and flexibility provide the opportunity to focus on what matters most in the lab- output. Should future needs require a new module, that module will be compatible with the original Helix basic system.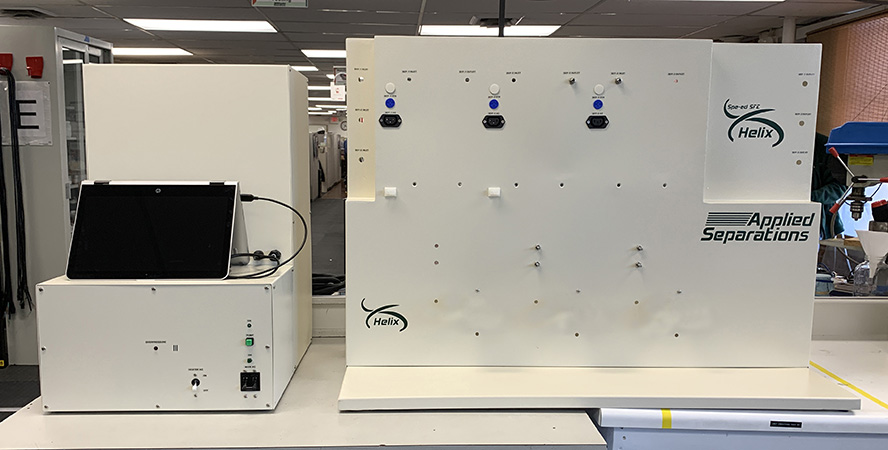 ASI's innovative research and development engineering staff is continuously and diligently working to introduce new Helix™ System modules to provide more value for the technical budget dollar. 
Helix Configurations
Basic Helix - Helix CO2 Extraction System with No CO2 Separators
Helix CO2 Extraction System with 1 CO2 Separator
Helix CO2 Extraction System with 2 CO2 Separators
Helix Extraction System with 3 CO2 Separators
temperatures to 240°C
pressure up to 10,000 psi (690 BAR)
holds 24mL to 1L vessels standard; up to 5 liter available
pump flow rates up to 400mL/min*
fully-adjustable, non-clogging, variable restrictors
collection into SPE cartridges or standard glassware
in-line trapping capabilities
modifier addition capability
multiple flow path
extract directly from liquid samples
stirrer capability
view cell…capability to look inside of the vessel
configurations for multiple/varied applications,
check applications sections
*flow rate based on incompressible liquid
Current modules available include:
Extraction Vessels

Ranging to 1000 mL with operational pressures of up to 10,000 psi/690 BAR

Cyclonic Separators
CO2 Pump

Available in both air and electric drive

CO2 Recycle

An environmentally alternative to releasing CO2 into the atmosphere

Modifier Pump

Available to add additional catalysts to the SCF process
Helix modules can be specially configured to complete SCF operations including:
Separations
Extractions
Textile Dying
Aerogel Drying
Nano size particle generation
Fragrance extraction
Essential oil extraction
IC Wafer cleaning; electronic components and machine parts
Helix modules can also be configured to:
Subcritical water extraction
Use alternate gases in place of CO2
Helix System features include
• Variable temperature control to 240°; pressure to 10,000 PSI/690 BAR
• Pump: 400 mL/min. flow rate for atmospheric (incompressible) liquid  (Available upgrade to 800mL/min.)
• Extraction vessel assembly sizes: 1000mL, 500mL, 300mL
• Cyclonic separator vessel assembly sizes: 1000mL, 500mL, 300mL
• Independent temperature and pressure controls for extraction and separation vessel modules
• Stirrer addition capability (optional stirrer assembly) (multiple impeller head options available)
• 12" x 22" (30.48 cm x 55.88 cm) base unit footprint.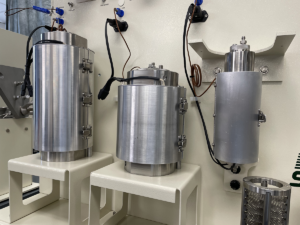 Pressure Vessels and Separators
Pressure vessels are heated by specially designed heater assemblies ("clamshell") that accurately control the temperature.
An additional CO2 preheater is employed to ensure that the CO2 is at the designed temperature before entering the pressure vessel.
A back pressure regulator controls the flow rate of gaseous CO2 if exiting to ambient collection or regulating the pressure in a downstream pressure vessel (e.g. cyclone separator).